Cuddle up with the Laaaaaambs at 2 different farms close together – Long Way Homestead and Ferme Fiola Farm for a fun farming job in 2022. Anna and Luke, Christel and Joey all welcome you to come learn about homesteading and raising wooly sheep on the beautiful prairie near the lush boreal forest.
LONG WAY HOMESTEAD AND FERME FIOLA FARM
The farms are 5 minutes away from each other near Ste-Geneviève, Manitoba – Treaty 1 Territory
About Longway Homestead:
Long Way Homestead is a family owned and operated Sheep Farm and Wool Mill east of Winnipeg, in Ste. Genevieve, Treaty One Territory. The farm is situated on 140 acres at the edge of the Boreal Plains region. The land is a mix of forest dominated by Balsam Poplar, Jack Pine, and Black Spruce trees. Most of the farm is not cultivated, making it a perfect habitat for deer, coyotes, beaver, squirrels and many different species of birds. Cooks Creek runs through the property and much of the land is a thriving wetland – welcoming to Sand Cranes, downy woodpeckers, swallows, Canada goose, hummingbirds and cedar waxwings.
Long Way Homestead raise sheep and process wool in their very own wool processing mill. They also grow natural dye plants and are working on growing their own flax for linen. Anna, Luke and their kids love to host people and share what they have learned in the "growing textiles" world and hope that the farm becomes more of a learning hub. The sheep management is year round, but wool harvest is in late April and the summer is focused on wool processing. The natural dye gardens are active from May until September.
And in addition to fibre farming, the family grows a big garden, all their own veggies and some meat too.
https://www.longwayhomestead.com/

Christel, Joey and Family from Fiola Farm
About Ferme Fiola Farm 
Fiola farm operates on the 120-acre Fiola family homestead, located in the Franco-Manitoban community of Ste-Geneviève. We currently sell direct market; pasture raised lamb and wool products, pasture-raised chicken, hay and straw in small square bales and some grains (oats and some ancient gains).
Currently, our flock consists of 25 breeding ewes. The majority of our ewes are Rideau Arcott with some Shetland, Rambouillet and Romney crosses. We use purebred rams to achieve our desired lambs. Every year in the fall we select a few ideal candidate ewes to sell as breeding stock. Send us a message if this is of interest to you or if you would like more information about our breeding program.
As stewards of the land we want to ensure that the land will be healthy for generations to come. It is in this spirit that each decision we make is based on four key values: earth-friendly, sustainability, respect, use what nature has to offer.
https://www.fermefiolafarm.ca/about-us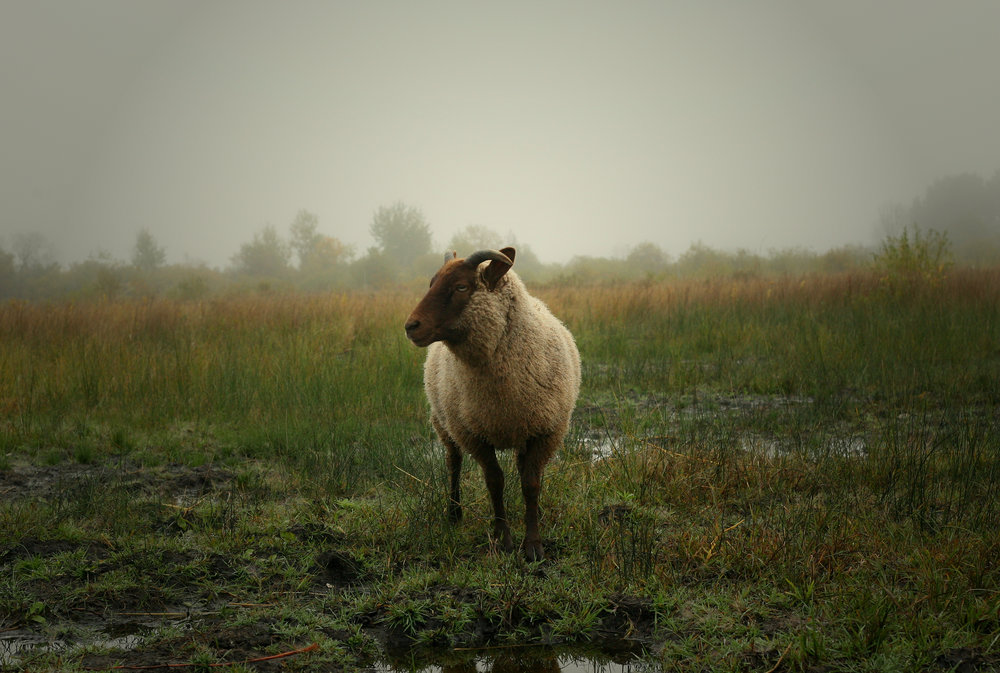 About the apprenticeship:

The apprentice will work along side Anna at Long Way Homestead and Christel of Ferme Fiola Farm to help with and learn about the care and management of sheep, chickens, and other small livestock. This includes: feeding, watering, health checks/vaccinations/hoof trimming, lambing, shearing, moving electric fence, moving chicken tractors and the day to day operations of small livestock farming on pasture. The primary focus is on fibre production, and textile agriculture.
The apprentice will also be involved in maintaining and growing natural dye gardens and vegetables, this includes: planting, weeding, garden prep, new garden bed work, harvesting, irrigating etc.
The apprenticeship would include an introduction to small animal hide tanning and the production of wool into yarn. The apprentice would be included in on-farm events and workshops, including farm tours. The apprenticeship would include some wool production in the wool mill.

Anna and Luke from Long Way Homestead (above photo is their kids)
About the farm mentors:

Anna Hunter and Luke Palka are the owners of Long Way Homestead, along with their two sons. They are first generation farmers with a passion for regenerative agriculture focusing on textile systems. Anna Hunter would be the primary mentor from Long Way Homestead. Anna is passionate about creating local, resilient textile systems that are good for farmers, workers and the land.
Christel Lanthier and Joey Fiola, along with their three daughters, are the owners of Ferme Fiola Farm. They steward 120 acres of mixed use farm, hayland, pastured sheep and poultry. The Fiola family has stewarded their land for over 125 years with a focus on soil regeneration, diversified plants and animals. Christel Lanthier will be the primary mentor from Ferme Fiola Farm. She is focused on small animal hide tanning and utilizing all parts of the animal and a commitment to decolonizing agriculture.
Christel from Ferme Fiola Farm
Skills this farm has to teach: 
The following skills are being offered by this farm. While you'll get exposure to many of these areas, it is likely that not all will be covered. Apprentices will work to identify the skills they want to develop through a learning plan with the host farm.  
fibre farming / Raising sheep
dying / processing wool
Nutrient Dense Food Production
Direct Marketing
using a wool mill
Gardening
rotational grazing / fencing

Egg Production Poultry Husbandry

Hide Tanning
Agri-tourism

Hay Making
Large Machinery operation

dye plants
lambing
Anna Hunter from Long Way Homestead
Skill required of the apprentice
*An interest in textile agriculture would be essential.
*Respectful and safe with kids (can tolerate youngsters around).
*Garden experience would be great (not required, but would be a bonus).
*Self Motived/self-starter can work independently and well with others
*comfortable with groups and a farm tour setting.
*the apprentice will be required to have appropriate work clothes and footwear.
Ability to perform manual tasks (lifting 55lb hay bales)
drivers license is an asset (not a requirement)

Housing, Stipend and Duration
*Housing details will be determined with applicant.
*Internet is available, laundry available
*Vehicle use would be on a case by case basis to be determined with mentor and apprentice.
* Hourly wage for 40hrs of work a week to be determined with applicant depending on experience and on subsidies.
*There will be a fee for housing and food to be discussed in the interview process.
*Duration: May – August or June – September (4 months)
About the Community and Land
Ste, Genevieve is a beautiful community on the edge of the Boreal Forest. It is a short 35 minute drive to Winnipeg or Steinbach but still has a rural feel! The community is fairly small with a small community centre, corner store, and lots of other friendly farmers. The community has a surprising number of creative residents and workshops on various topics can often be found in the community.
"Long Way Homestead is on Treaty One Territory. We would like to acknowledge with a spirit of gratitude that we steward land on Treaty 1 territory – the traditional lands of the Anishinaabe, Cree, Oji-Cree, Dakota, and Dene Peoples, and the homeland of the Métis Nation." – Anna Hunter
Young Agrarians recognizes the unresolved Indigenous land title and rights in the diverse territories in what is today called Canada. As we live and work in the context of and in response to a colonial system of laws and policies, it is important to acknowledge the historical and ongoing impact of agriculture and land enclosure on Indigenous lands and food systems. In this context, we acknowledge our collective responsibility to position Indigenous Peoples and their experiences with coloniality, in a narrative of reconciliation that places ecology, land stewardship, and Indigenous land title and rights at the forefront – if we are to sustain the Earth's ecosystems in today's rapidly changing climate.
Our deepest hope is that the future of our food systems is diverse, interconnected, and resilient, embraces people of all walks of life and sustains the water, plants, and creatures in ways that benefit and work alongside Indigenous Peoples and narratives and ways of knowing and caring for the land.
This farm, like many others, is surrounded by agricultural cultivated land, uncultivated land, Indigenous people and voices from non-settler walks of life. We encourage everyone to build relationship with the land and community that surrounds the place where you will be learning.
More Details about this Apprenticeship and How to Apply 
Deadline to apply > January 31, 2022
Contact Sara (program coordinator) for questions: manitoba@youngagrarians.org